Wall Hatch clickFIX® - inspections door with excellent heat insulation.
High quality wall hatch with patented construction
Our patented wall hatch in the well-known DOLLE clickFIX® technology can also be used as an inspection door for lofts or as a door for extra storage room. The wall hatch has 56 mm thick insulation therefore prevents heat loss and enables the end user to save on heating bills in comparison to using a traditional wall hatch. The DOLLE clickFIX® 56 Wall Hatch is quick and easy to fit without needing any special tools. The frame and hatch click together as part of the clickFix technology – there is three easy steps and the click click, - it saves time and money.
Elegant white wall hatch made to measure your room!
DOLLE clickFIX® WH 56 is an elegant and airtight wall hatch with a 56-mm insulated white trapdoor. The unique 50 mm insulation and the patented construction prevents loss of heat and draught. The trapdoor can be fitted either left or right. The handle can be removed to offer secure access to space. The wall hatch DOLLE clickFIX® WH 56 is delivered with lock, handle and sealing strip. The wall hatch is easy to mount without any special tools. Can be made in any size and to your specification so do not hesitate to contact the DOLLE UK sales team.
Quality in manufacture
The wall hatches from DOLLE are all manufactured in accordance with DIN EN 14975 and meet high quality standards across the range. Craftmanship is combined with high quality materials. The wall hatches are manufactured in Denmark alongside our celebrated loft ladders ever since 1951. The manufacturing is under ISO certified systems and our timber is sourced from renewable FSC® certified forests this also applies to all our wall hatches. Standard wall hatch - casing size 54x70 cm.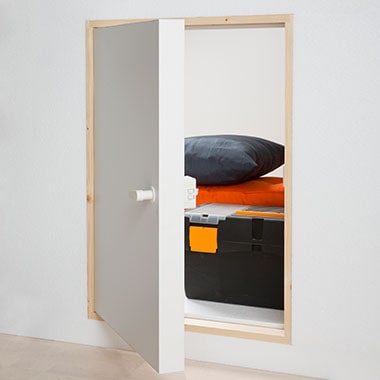 | | |
| --- | --- |
| Outside casing | 49.5 - 122.5 × 44.5 - 122.5 cm* |
| Opening size | 47 - 120 × 42 - 120 cm |
| Casing height | 11.5 cm |
| Tested u-value | 0,65 W/(m2K) |
| Insulation | 50 mm expanded polystyrene (EPS) |
| Air tightness | Class 4, EN 12207 |