IMPROVE SAFETY WITH A HANDRAIL
Our handrail is designed to add safety and keep a clean and stylish look to your home! Our handrails are in kit - Ideal for stairways and long hallways both indoors and outdoors. The handrail kits from DOLLE are quick and easy to install and a real fast way to make it safe.
The handrails are modern and have an elegant shape in outstanding quality and superb details. Our handrails fit our balustrade systems so you can keep the same lines, colour, and material as for your decking balustrade system.

PURE handrail kit
Sophisticated elegance - with PURE handrail you get a perfectly shaped handrail in an outstanding quality. Available in black, white and titanium colour.
Handrail kit PROVA
Easy and convenient handrail system in the DOLLE PROVA program. The aluminium handrail comes in kits in two clours - 2 metre pack including bracket for wall mounting and ready to extend.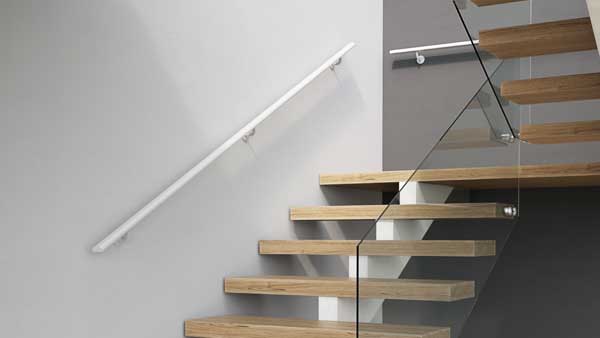 White Handrail kit
Handrail kit PURE White has a graspable friendly shape providing the best combination of strength and a very comfortable grip.