BALUSTRADE SYSTEMS
With the DOLLE balustrade kits you can assemble your own balustrade system by conveniently select from the ready-configured sets. The decking balustrade systems are suitable for floor mounting on steps, patio deck or pedestals or for wall mounting on stairs, parapets or balconies. All our balustrade systems are made of weather-resistant aluminum and stainless steel filling and can be used both indoors and outdoors.
The DOLLE decking balustrade system offer a variety of design options.
Type of balustrade systems
1 m high balustrade Prova 8
High quality balustrade kit 2-metre long in anthracite and aluminium. The balustrade is available both floor or wall mounting.
1.2 m high balustrade Prova 10
The baluatrade kit PROVA 10. The 2-metre kits are in two colours aluminium and anthracite. Choose between floor or wall mounted.
PURE balustrade white
Easy balustrade solution to install with beautiful result. Balustrade PURE White is available in balustrade sets of 1 metre high and can be purchased in lengths of 1.5 metres or 2.5 metres.
PURE balustrade Titanium
Customizable for your needs: Choose a 1.5 metre or 2.5 meter set and extend it by another until you reach the desired length. You can supplement with as many as you want.
Handrails for indoor and outdoor
Easy and convenient handrails. The aluminium handrail comes in kits. The PROVA handrails are 2 metre kits, DOLLE PURE handrails comes in 2 and 3 meter kits also including bracket for wall mounting - you can just extend. The handrails makes any stairway indoor or outdoor safe. The PROVA handrail is also available in wood so you can achieve an individual design for your railing depending on taste.
Balustrade systems in high quality
Professional and versatile - the DOLLE balustrade system offers you the opportunity to custom-fit your own decking balustrades ideal for balconies, patio or interiors and garden space - tailored to suit the style of your home.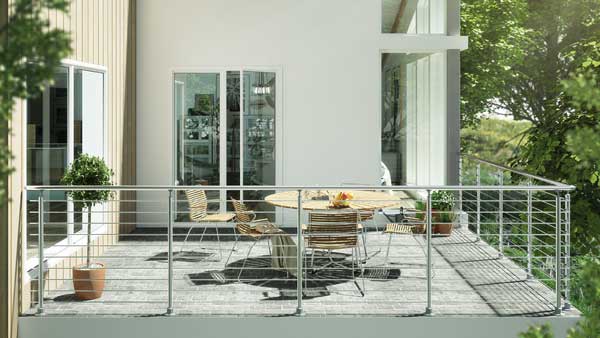 Balustrade systems for indoor and outdoor use
Would you like to give new elegance to your existing patio? Or are you looking for a contemporary replacement for your balcony balustrade og decking balustrade? If the answer is yes then the solution can be provided by the DOLLE balustrade system. The perfectly shaped banister elements which are made of weatherproof materials can be individually combined and used for the most diverse outdoor requirements. The result is modern and timeless decking balustrades and handrails.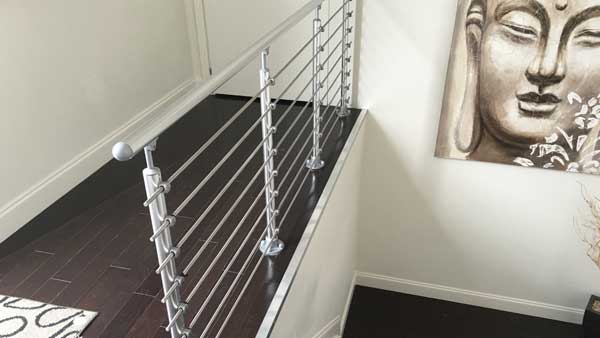 See more about DOLLEs balustrade system
Design your own balustrade system
Design your own balustrade system exactly according to your specification and needs.
Ingenios easy elements for balustrade systems
DOLLE balustrade and decking balustrade systems consist of a variety of balustrade components, such as fillings, handrails and posts that can easily combined with each other, this makes the balustrade system both flexible and versatile. Add to that the convincing simplicity by which the parts are assembled and in no time, a complete balustrade system is created. In addition, we also offer configured balustrade kits same principle just add one kit after the other - the balustrade kits consist of connection spare part. But when you turn around a corner you must add the corner kit which consists of all the corner fitting you need.
DIVERSITY AND EASY ASSEMBLY
Patio, balcony, entrance or staircase - the DOLLE balustrades are characterised by contemporary design and can be used both outdoors and indoors. With its various components made of anodized aluminum and stainless steel, ideal for your home.
GOOD REASONS FOR ALUMINIUM
Aluminium is durable and long lasting in extreme weather conditions. Despite its low weight, aluminium is high strength, weather-resistant and even UV radiation has no influence on this material and because of its durability, aluminium rarely needs to be maintained. A light cleaning of the decking handrail with a mild cleaning soap is recommended from time to time with the powder-coating and anodized aluminium being optimally protected against abrasion or corrosion. DOLLE PROVA, PURE and CLEAN are made of alumunium.